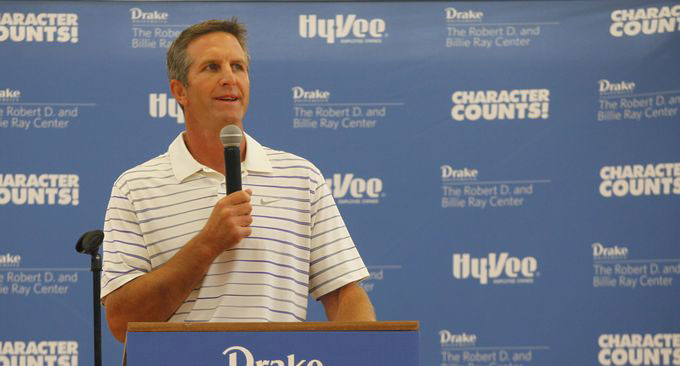 Former professional baseball star and Indianola native Casey Blake became the newest recipient of the Robert D. Ray Pillar of Character Award Thursday morning.
Scott Raecker, director of the Robert D. and Billie Ray Center at Drake University, presented Blake with the award at a ceremony in the Blake Fieldhouse, a multi-use athletic facility, named after him. Blake helped kick-off a fundraising event for the new facility back in 2010, with a million-dollar donation.
Raecker explained the character award honors former 14-year Iowa Governor Robert D. Ray, who dedicated his life to improving the quality of life of all Iowans.
"Governor Ray is a lifelong commitment to civility and character in government," Raecker said. "Previous recipients of this honor include Norman Borlaug, who also won a Nobel Peace Prize."
Other past honorees include Chicago Bulls coach Fred Hoiberg, Olympians Dan Gable and Shawn Johnson and former Baltimore Raven Dallas Clark.
"Each of these recipients was recognized for their noteworthy achievement in life, but most significantly, leading an exemplary lives of good character," Raecker said to the students filling the field house in Indianola. "The 2016 recipient of the Robert D. Ray Pillar of Character Award is a former Indianola Middle School student, just like each of you."
After accepting the honor, Blake told the students it doesn't matter what kind of mistakes they make in life, because there's always a chance for redemption.
The former LA Dodgers third-baseman said an athlete gets better by making mistakes, then making adjustments and working hard.
"You make adjustments and you get better," Blake said. "That's what life is about."
He challenged the students to do the right thing, even if it might not be cool.
"The right thing to do is a lot of times the hard thing to do," Blake said. "I think one of the biggest judges of character right now in your life is what kind of classmate are you."
He told the kids their peers won't remember them for being a star athlete, or good in choir or dance, rather for what type of personality they have.
Encouraging the group, Blake told students to talk to each other and make the excluded kids feel included.
Blake later said he's had a few good characters help him along the way, like Joe Torre, the former manager of the Dodgers.
"In 2008 [he] pointed to us making the playoffs and having a playoff run to my being in the trade," Blake said. "He just said when we traded for him, that's when we started to play well. To have a Hall of Fame manager like Joe Torre say those things about you – it's very helpful for my confidence."
Now, Blake said, he's tried to bring that same character to his own coaching methods.
He said it seems like success generally breeds confidence, so it can be hard to lift others up when they're down.
"I usually needed to see some success before I had confidence so if I was failing at something – one – I didn't like to fail at something and I was going to do everything I can," Blake said. "I can credit my parents, my dad, for that kind of mentality, that kind of work ethic…You make mistakes, you learn from them, and then you never give up until you get it."
Paige Godden, pgodden@registermedia.com